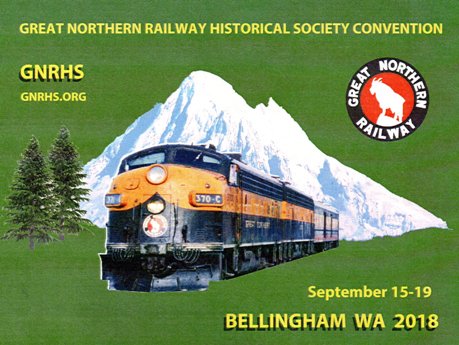 2018 Bellingham
GNRHS Convention
by Lindsay Korst
gngoat@gngoat.org

Welcome to the 2018 GNRHS convention! Following is my write up of the good times and fascinating things seen at Bellingham.

Saturday, September 15th

Bellingham Rail History tour
It's 8 am and the GNRHS membership is ready and raring to go! That's Bob our bus driver telling us a few safe motoring tips. Ben's having way too much fun...
Our first stop is the Fairhaven waterfront (near the current Amtrak station and Alaska State Ferry dock). Neva and Don Pavia interpret what we're seeing (the ex-Great Northern mainline) with the aid of Bob Kelly's historical maps. As we move to our next vista, you can see interurban tracks still embedded in the pavement.
Just as we're pulling up to the Taylor Avenue dock in Fairhaven, Amtrak Cascades #517 rolls south to its station stop at Bellingham. That's the Alaska State Ferry "M/V Kennicott" in the background. As Mike Bartenstein operates the speaker, Don Pavia explains what used to be here (the NP had a pier nearby and of course the GN passes underneath). Scott Tanner chats it up with Tyrone Johnsen and Tom Carr. Just before we leave, an empty BNSF oil train rumbles south on the markers of #517.
From the dock, we wind our way down to the Bellingham waterfront. That's the ex-Northern Pacific line (now a trail) we're following. Up ahead, you can see the first bus passing the old GN Bellingham depot and freight station.
BNSF has some local power parked at the ex-GN depot. A view down the platform. Tom Arms, Chris and Pete Calderon pose with the station sign. Okay, everybody back on the bus. Chop-chop!
As we're heading north along the tracks, a Rocky Mountaineer rolls by south on its way to Seattle. We also see BNSF #12529, a former caboose now used as a "shoving platform". Passing through downtown Bellingham we are forced to pass a certain house of ill-repute. Despite the name, I don't think you'll find "Steam Locomotives of the Great Northern Railway" in this bookshop....
As we approach Blanchard, WA, we see both the southbound oil train AND the Rocky Mountaineer passenger in the siding (presumably to let the northbound Cascades #516 get by). As our two buses wait at the crossing, the Rocky Mountaineer backs out of the siding, then proceeds down the main ahead of the oil train.
The former GN depot at Blanchard has been moved far back from the tracks and is now used as a community center. Right next door is the most purple house I've ever seen!
Lunch break! Here we are at Riverfront Park in Sedro Woolley, WA. As befits the occasion, Neva Pavia has prototypically done her nails in GN passenger colors...right down to the gold stripe! Lunch was a simply marvelous chicken pot pie with all the fixings.
Here we are at the "Woolley triangle" where 3 separate railroads crossed (the Fairhaven & Southern, the Seattle & Montana and the Seattle, Lake Shore & Eastern. What we're standing on is the diamond for the NP & GN. This trackage is completely disconnected from the nearby BNSF line to Sumas. On the GN tracks, I spotted a 112lb to 100lb rail transition angle bar.
We made one final stop to see the Great Northern X87 caboose along Highway 20. Also present was Puget Sound and Baker River Railway #2, a 4-6-0 along with a load of timber. On our way back to Bellingham, we traced the route of the Fairhaven & Southern which was abandoned when GN rebuilt their line along the coast.
Sunset Boat tour
Here we are back at Fairhaven boarding the "Chinook" for our dinner cruise along the shore line. There's the Kennicott again which will shortly be leaving for Alaska.
We followed the ex-GN Coast Line south. View of the first tunnel, then Old Glory on the stern of our vessel. Train! Yep, it's a northbound loaded coal headed for Roberts Bank, BC in the setting sun.
GNRHS members enjoying a chicken dinner as we cruise along the shore. The Chinquists and Tanners are out on deck. A quick selfie at our table (that's the Society's bon vivant Steve Eckman and Webmaster Ben). As twilight passes into darkness, Cascades #519 trundles towards Seattle.
Sunday, September 16th
GNRHS Board Meeting
The 2018 edition of the GNRHS Board features three newly-elected members: Mac McCulloch (via telephone), Bill McGinley and Bob Showers. Stage Left, we see Secretary Tom Carr, Directors Scott Tanner, Bill McGinley and Treasurer Bill Sornsin. Stage Right, in attendance are Directors Ben Ringnalda, Bob Showers, John Langlot and President/Director Don McGlothlin.
Rail Fair
Our swap meet featured an enormous modular On30 layout which stretched the entire length of the hall. The Moose Creek Logging Company boys operate out of Arlington, WA.
Empire Builder for sale, a GN Ry sign just lights up the scene, Jan Tanner would love to sell you a Winold Reiss calendar or two, an N-scale Builder sweeps majestically towards an RDC-3, Hey, that Lindsay person is taking our picture again!
Models & Displays
Convention attendees were encouraged to present their GN-related items for inspection.
Business Meeting
President Don introduces Officers and Board Members of the Society and welcomes the membership to the convention.
Bill Sornsin, John Langlot and Scott Tanner bring the troops up to date on Society doings.
Bob Kelly and Earl Currie give talks on the Archives and GN's Coast Line respectively.
Monday, September 17th
Presentations
Pacific Coast Railroad by Dave Sprau
Brass Models by Bill Seifert
Cascade Tunnel Motors by Father Dale Peterka
Shipping Planes on Trains by Andrew Klamka
Modeling GN Signaling by Ron Ferrel
Vancouver BC - GN's 3rd Western Terminus by Tom Carr, Kent Cavaghan and Adrian Kopystynski
Unused Photos and Upcoming GN Books by Richard Yaremko and Dale Sanders
Fading from History: The Legendary Empire of James J. Hill by Stephen Sadis
Dispatching West Coast Lines from Everett to Vancouver BC by Mark Meyer and Dave Sprau
Tuesday, September 18th
Cross Border Tour

Up I-5 we roll towards Canada.
White Rock Depot
Our first stop was just across the border at the ex-GN White Rock, BC depot. A 200 yard wind sprint got me out on the pier to catch this BNSF train rolling south. GNRHS members are strung out on the promenade paralleling the tracks. The former Great Northern building is now an archive and museum. During our hour visit, two other trains rolled by: a southbound freight and then the northbound Amtrak Cascades #516.

Cloverdale Museum
Lunch stop was at the impressive Fraser Valley Heritage Rail Society interurban museum in Cloverdale, BC. We were divided into three groups to tour the facility. FVHRS has done an amazing restoration job on several former British Columbia Electric Railway cars including #1304 "Connaught" shown here. Operation of the car's traction motors is via the auxiliary generator coupled to one end.
We were given a short ride on Connaught to admire the interior furnishings. Is that Clark Gable posing for the advertisement?
Our group was taken over to the car barn to board BCE #1207 "Steveston" for a short video presentation.
A wall map shows the BCE's former route from Vancouver to Cloverdale to Chilliwack.
Another car #1231 with a Burnaby Lake sign reposes in the background. Tyrone Johnsen and Lindsay Korst take the hand-powered track speeder for a spin.
We also rode a track work speeder and trailers for a short distance. Grabbing a sandwich for lunch. Loren and Aida Charnholm have a bite on the steps of a homemade streetcar. A final look at #1304 amongst the wildflowers.
Cloverdale to Burnaby via Port Mann and New Westminster
At CN's Thornton Yard in Port Mann, we pass some BNSF power; Looking down from the Pattullo Bridge, we see where the GN & CN cross the Fraser River at New Westminster; View of the former GN depot in New West; Crossing over the former GN/CN line to Vancouver at Burnaby.
Burnaby Central Railway
The British Columbia Society of Model Engineers built and operates the Burnaby Central miniature Railway in Confederation Park. They even have their own customized Pepsi machine!
Scott Tanner and I take the first run of the day. Around curves and through tunnels we pass another train. Back at the station, the NYC steam engine prepares to take still more passengers out for a journey.
Burnaby Central also operates a small garden railway. They trotted out a great deal of GN/BN engines and rolling stock for our benefit.
It was an absolutely beautiful day for a ride.
BCSME opened up their engine shed so GNRHS could take a look at member's personal locomotives. On display at the main depot is this sign from King Street Station in Seattle.
The sun is getting lower as another trainload of fans heads out.
As the sun sets, the final runs of the day are made. The BCSME group also provided a catered salmon & ribs dinner before it was time to head back to Bellingham.
Wednesday, September 19th
Presentations
The Great Northern and Milwaukee running for Bellingham in harmony by Mike Pagano
The GN Collection at PNRA by Gary Tarbox
Early Bellingham Railroads by Don Pavia
Legal Issues by Stephen S. Eckman
Modeling GN Locomotives and Freight Equipment by Stan Townsend
The Banquet
To wrap up the convention, we have a feast in the big meeting room. See if you can spot yourself in these pictures!
Scott and Jan Tanner pose with longtime friend Bev Tracy, then yuk it up with Steve Eckman and a GN No Trespassing sign!
Awards for 2018
Norm Priebe, Stu Holmquist and Ken Middleton were all awarded lifetime memberships in the GNRHS for their many contributions to the Society.
Don Pavia is presented a Rocky Award by President Don McGlothlin.
Steve Eckman receives a Rocky Award for his contributions to GNRHS.
Ben Ringnalda takes home a Hustle Muscle award from the GNRHS Board.
The Raffle Prizes!
The Grand Prize this year goes to Loren and Aida Charnholm of Sturgis, SD (a Great Northern brass HO scale O-1 Class 2-8-2 donated by North Bank Line).
And once more another GNRHS convention is in the books. I had a great time myself and wish to thank all the folks who worked so hard to pull it off. If you've never attended a GNRHS convention, consider our upcoming shows in Fargo, ND (2019) and Nelson, BC (2020). Highball! LIN-Z

THE END