Lindsay and Baolu
2018 July Reno/Lake Tahoe trip
Celebrating our 25th Anniversary a little early this year...
gngoat@gngoat.org

Standard Disclaimer: Nope, no GN stuff here. Just another trip report. Enjoy!


Saturday, June 30th


It's an early morning flight to Reno, Nevada for Lindsay and Baolu -- off on another great adventure. TSA is incredibly fast and efficient -- to speed things up, they eliminated the shoes off, laptop out, and those stupid body scan machines. Imagine that. It's like they're admitting it's all a show.




Anyways, we begin our vacation with a delicious breakfast at Anthony's along with some simply marvelous Bloody Mary's and a foo foo drink for B. Start the day right! We are both very happy as we stumble to our gate.

Alaska Airlines has a convenient non-stop utilizing a Brazilian-made Embraer E175 aircraft (it seats 76 people). I like the two-two seating because there is no stinky center seat person to deal with. Unfortunately the seats themselves are excruciatingly uncomfortable. The back of the seat is like a slab of wood.

Luckily, Reno is just a short hop (1 hour, 20 minutes) from Seattle and we're hustling thru RNO airport for our luggage and rental car in short order.

Our first stop is the CVS for a flat of water and some wine for later. Sparks, Nevada (located adjacent to Reno and hard up against the large Union Pacific Railroad yard) is a very sketchy neighborhood. But they have two things we can't get at home. First is a visit to a little SP narrow gauge steam engine and second....lunch at In-N-Out burgers!





Southern Pacific #8 is a Baldwin-built (1907) 4-6-0 narrow gauge steam locomotive featured in many movies -- located right across the street from an In-N-Out!


Baolu can barely wait to tuck in to her cheeseburger and fries. My double-doubles await, expectantly, to be daintily masticated by yours truly. Oh, so good. Baolu agrees their food is number one. Double Double down the hatch!

It's a little after noon as we head to our next stop in Carson City. Just south of the downtown is the Nevada State Railroad Museum.

And oh my goodness me, they've got everything operating. FOUR steam locomotives are hot and their spaceship-looking McKeen motor car is in operation! Let's check it out....





"Glenbrook" (Carson & Tahoe Lumber & Fluming #1) is a narrow gauge 2-6-0 built by Baldwin in 1875.

"Dayton" (Virginia & Truckee #18) is a standard gauge 4-4-0 built in Central Pacific's Sacramento shops in 1873.






Virginia & Truckee #25 is a standard gauge 4-6-0 built by Baldwin in 1905.

"Inyo" (Virginia & Truckee #22) is a standard gauge 4-4-0 built by Baldwin in 1875.

Inyo has appeared in many Hollywood movies including 1952's Carson City (in Warnercolor). How appropriate #22 is now back in Nevada, in steam, on home rails.






Last, but not least, is the V&T #22 motorcar built by McKeen Motor Car Company (Omaha, NE) in 1910.

It turns out Baolu just loves these four little teakettles. At the ticket office, we are told if we ask nicely, we might get a cab ride on the Inyo.








Welcome aboard! Baolu's smiling face got us up in the cab of V&T #22. As we watch from the tender, the Glenbrook has come down from the roundhouse to take on water.






Glenbrook maneuvers back and forth until the water spout is lined up just so. Yes, the locomotive really uses wood as fuel -- the museum buys pallet loads of the stuff.





Close up of the Inyo's brass gauges. Our fireman throws a few logs in the firebox.






V&T #25 pulls into the depot to take on more passengers.






We're off! Baolu takes some snaps, our engineer blows the whistle and our fireman checks his inferno. Down the track we go.

That was great fun. Thanks guys! We drop a twenty in their little coffee can marked, "donations".







Baolu says I'm like a little kid in a candy store. I cannot resist taking a ride on the McKeen. This thing is so cool. Knife-edged front end. Brass porthole windows. Cantankerous CAT 3208 marine engine up front. Let's go!







B waves at our pals in the cab of the Inyo. We pass the gallows turntable, engine house and museum. The Dayton simmers on the ready track (notice all the "speeders" and "putt-putts"). Thanks for the "Keen" ride!







Let's check out the museum (indoors, that is). Hey, that boxcar number is my birthday! Check out this funky motor car #401 from the (takes a deep breath) Tucson, Cornelia & Gila Bend Railroad. Built by the Edwards Motor Car Company in 1926, this little doodlebug is the former N.S.R.M. #50, the "Washoe Zephyr".








Meanwhile, back at the roundhouse, "Glenbrook" is getting a rubdown as the "Dayton" looks on. One final look at the "Inyo" as it is put away for the day along with V&T coach-baggage #9.

Wow. What a display of locomotive pulchritude! How can we ever top that?


Sunday, July 1st






How about a ride on the Virginia & Truckee Railroad from Carson City to Virginia City...behind steam?







Virginia & Truckee #29 "Robert C. Gray" is a 1916 Baldwin 2-8-0 originally built for the Longview, Portland and Northern Railway as their #680.

Baolu dresses up the front of V&T #29. Close up view of the cab and tender. #29's boiler pressure has risen to where it lifts the safety valve. Otherwise known as "popping off". Lindsay in full railfan goober tourist mode!








Our three coaches today are (from front to rear) #102 "Silver City", #101 "Gold Hill" and #103 "Carson City". One last look at the 2-8-0 before we board.





Baolu's ready to go! Folks in period costume and outlaws alike bid us farewell. Riding behind steam is SOOOOO cool!








Climbing uphill through the sagebrush. Passing through some mine tailings. Tunnel! Rounding a sharp curve.







Virginia City in all its schlocky goodness...







After a light lunch, Baolu and I stopped in here for several drinks. Christina the barkeep was exceptionally generous with overflowing drink pours (she was trying to use up a bottle of Jack Daniels and I was there to help). We tipped her 100% -- made her day. I'm here to testify that booze served at 6,150 feet above sea level is quite extraordinary. Luckily, it was downhill back to the train.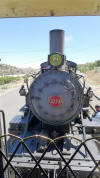 Back on board the Carson City Flyer...V&T #29 will pull us back-to-front down the long grade to Nevada's capitol city.








Passing the Gold Hill depot. Coming up on a tunnel. Winding down hill. Before we know it, we're back in Carson City (Eastgate Depot). One last look at V&T #29.


Monday, July 2nd


Road trip! Today we leave for the east shore of Lake Tahoe, Truckee, CA, Donner Pass and on to another narrow gauge railroad museum in (appropriately enough) Nevada City, CA.





From Carson City, I had intended to take Hwy 395 south to where it connects to Hwy 207 and over to Lake Tahoe. Very scenic route (see above intended voyage highlighted in orange). However due to bad planning (Lindsay misread the paper map), it turns out 395 doesn't actually connect with 207! Abandoning the AAA atlas, I fired up Google Maps and the disembodied female voice was able to talk us over to SR 207.

It was a beautiful drive up and over 7,342 foot Daggett Pass. Blue sky and a wonderful view of Lake Tahoe as we descended the other side. We were in full tourist mode, just coasting along. I frequently had to pull over to allow the hypes behind me to get by.




Zephyr Cove. Ah.... visions of the erstwhile California Zephyr or at least a cool, windswept beach with the morning sun at our backs and the deep sapphire blue of Lake Tahoe glistening before us. But it was not to be.





Not only that, it seems the entire east shore (Nevada side) is under construction. The only unsullied spot turned out to be the spectacular twin tunnels at Cave Rock.





Anyways, we traveled on northward at the Hwy 28 turnoff passing into California and a little town known as Kings Beach. Time for some miniature golf! Yep, the local course was open and to our astonishment, the town had FREE PARKING across the street. At Lake Tahoe, that's as rare as an honest FBI agent.

After 18 holes, we set off for Truckee. We actually passed our hotel for the night (the Best Western) and continued on Donner Pass Road (old U.S. 40) past Donner Lake and up into the mountains.









Baolu poses overlooking Donner Lake. Named after the Donner Party. Eww...

Lindsay takes a rather clumsy selfie of the two of us. The boonie U.S. 40 bridge near the summit. China Wall. Baolu announces she wants to come back here tomorrow morning and climb up there!





We continue over Donner, past all the ski areas. At Soda Springs, we hear a horn.... Ah, it's a sucky picture (wrong side of tracks...sun high in the sky), but a train nonetheless...

We get onto I-80 and head west. Just this side of Emigrant Gap, we peel off on Hwy 20 and zoom downhill all the way to Nevada City. It's about 1:30pm and we're getting a little peckish. Fortunately, B spots a bistro where a very delicious lunch is forthcoming.

Appetites sated, I query the Google Maps bitch for the "Nevada City Narrow Gauge Railroad Musuem". It's just a few miles away so we head over there.






Entry to the museum is free, so I drop a twenty in their donation box and a docent pops up to show me around! John (former Amtrak engineer) gives me the full tour of NCNGRRM. Their star attraction is former Carson & Tahoe Lumber and Fluming #5, a 1875 Baldwin 2-6-0. This little Mogul was a Hollywood Movie Star heading to Universal Studios in 1941 and appearing in no less than 100 movies according to John.

The surprise is outside. Argent Lumber Company 2-6-2 #5 was built by Lima in 1911. This is a privately-owned locomotive on loan to the museum. Very oochie!







Inside the shed there is all sorts of restoration work going on. The 0-4-0 Porter "Antelope Western" steamer is EXTREMELY kick. A couple narrow gauge cabooses have been built and currently the boys are working on an old D&RGW stock car. This is really oochie!





One more look at the absolutely adorable critter #1, Pittsburgh-built in 1889; From just outside the main shed we get a look up and down the narrow gauge track. John told me the track curves around quite a ways to a loop track -- total ride time is 20 minutes down and 20 minutes back. Too bad we didn't visit on a Saturday!

With the conclusion of narrow gauge fun for this trip, Baolu and I headed back to Truckee. Upon reaching I-80, however, Lindsay was presented with a yellow over yellow aspect (Union Pacific Railroad Rule 245C "Approach Medium"). Gotta stop. Train coming.






Sure enough, ten minutes later, UP 8348 comes charging uphill leading a "six-axle quartet" of Armour Yellow locomotives tugging Oregon lumber eastward. Baolu captures LIN-Z in the classic railfan pose.





Then it's up and over the pass and on to our Best Western hotel just outside Truckee.






Dinner tonight is at the appropriately-named Drunken Monkey (Baolu is an Earth Monkey in Chinese parlance). A sushi place way up high in the wilds of the Sierra Nevada? Yep - pretty civilized out here.


Tuesday, July 3rd


After a gutty breakfast at the B.W., we set off to conquer Donner Pass and the Chinese Wall. We had planned to hike up from the car, but were unable to find the trailhead. Consulting Google Maps again, I discovered you could also hike over to the former Southern Pacific mainline from the summit (SP pulled up this part of the line in 1994, I believe).





Baolu leads the way through "Bug Flats" (armadas of blood-thirsty mosquitoes lurk in these woods) and soon comes upon the first snowshed.






Standing next to part of the Chinese Wall, Baolu points out two snowsheds looking west. A view from the wall down on where we originally parked. It turns out the trailhead is over on the left (where the white USFS truck is). Mister Ranger climbed up on those rocks and was painting out graffiti inside the snowsheds.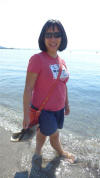 All morning Baolu had been clamoring that she wanted a picture of herself sticking her toe into the magical waters of Lake Tahoe. This was accomplished at Commons Beach in Tahoe City, CA. By some miracle, this beach had free parking just steps from the shore. The hazy sky is smoke from California wild fires.

As we drove along the west shore of Tahoe, almost the entire way was one big resort -- all sorts of posh lake cabins and sprawling condos with paved bike paths through it all.





Any journey to Lake Tahoe is not complete without the de rigueur visit to Emerald Bay. Fannette Island stands guard amidst a constantly moving flotilla of pleasure craft. Selfie time!









Our hotel for the next two nights would be Marriott's Timber Lodge in South Lake Tahoe, CA. Quite ritzy in a rustic-informal setting and right next to (maybe 100 feet from) the Nevada-California border.







We had some drinks and dinner, did a little shopping, and Baolu posed with Audrey at the Robert Hall "Loft" magic show that evening.


Wednesday, July 4th


Happy Birthday America! You Ess Eh! You Ess Eh!






The first item of business after breakfast was a ride up the side of Mount Crumpet in the Heavenly Resort gondola -- conveniently located right next to our hotel. We're going up and up and UP....






Twenty minutes later, we get to a spot called, "Midway"...






Great views though...

So after taking in all that scenery, we get back on the gondola, then transfer to a chairlift to get to the very very top (about 9,500 feet above sea level).







Baolu and LIN-Z (wearing his dorky hat) on the six-person chairlift. Hmmm...the "Tamarack Express" station at the top reminds me of something. D'ya think the architect was a fan?







Meh. The view was better back at Midway. The only real entertainment is the zip line riders zooming by. So, back down the mountainside we go.

The rest of the day (no pictures) was just relaxing. Had a nice lunch, saw Incredibles 2 at the local cinema (we both liked -- VERY good -- even better than the original), took a nap, did some more shopping and to cap it all off, watched some fireworks from the roof of the nearby parking garage.


Thursday, July 5th

Back Home Again






Routine flight home, but before boarding, discovered a simply smashing Nevada-brewed corn whiskey at the bar directly across from our gate at the airport. Brought home a bottle. "The Depot" was the headquarters of the Nevada-California-Oregon Railway built in 1910.

The enormous pine cone is one I plucked off a tree for Baolu at Truckee. It is decorated with red/white/blue beads we wore on the 4th. The large, brass bell in the background is from an unknown Southern Pacific steam engine.

Great trip! I hope you enjoyed our little tour of the Sierras and Narrow Gauge heaven as we celebrated (early) our 25th Anniversary.

THE END