From the February 1939 issue of
Baldwin Locomotives magazine,
pages 13-17.

Baldwin Locomotives on the
Great Northern Railway

4-8-2 and 4-8-4 Types Haul The Empire Builder
Between St. Paul and Seattle




It is a pleasure to acknowledge the courtesy of the Great
Northern Railway Company in furnishing information
used in the preparation of this article.—EDITOR.

The Great Northern Railway, whose main
line extends from St. Paul, Minnesota, to
Seattle, Washington, has the most northern
location of any trans-continental line in
the United States. It crosses the Continental
Divide in the Rocky Mountain region at a lower
elevation than any other line, and grade and
curvature conditions are favorable to the movement
of heavy tonnage. The highest point on
the main line is at Summit Station, Montana,
where the Continental Divide is crossed without
a tunnel, at an elevation of 5,211 feet. This
summit is approached, from the east, over maximum
grades of one per cent, and from the west
over a grade of 1.8 per cent on a helper district
14.3 miles long, which is preceded by a 14-mile
grade of 0.8 per cent. These grades are compensated
for curvature.

Since the Great Northern was built through
to the Pacific Coast in 1892, the crossing of the
Cascade Range in Washington has presented
difficult operating problems. The summit in
this range of mountains was originally reached
by a switch-back, over maximum grades of four
per cent. In 1900, with the completion of a
tunnel 2 5/8 miles long, the switch-back was
finally abandoned. The tunnel was electrified
in 1909. It was approached on both sides by
grades of 2.2 per cent, and conditions in winter
necessitated a number of snow sheds, which
were difficult and expensive to maintain.

In view of these conditions, an extensive relocation
of the line was effected about ten years
ago, when a new tunnel, 7.79 miles long, was
driven through the mountains. With the completion
of this tunnel, which was opened on
January 12, 1929, the highest elevation in the
Cascades was reduced from 3,383 to 2,881 feet,
and 8.88 miles of route, 3,674 degrees of curvature,
and 18.26 miles of 2.2 per cent grade,
were eliminated. The tunnel is straight and
has an ascending grade eastbound of 1.56 per
cent. With the completion of this improvement,
electrification was extended from Skykomish,
on the west, to Wenatchee, on the east,
a distance of 71 route miles.

Shortly after the completion of the tunnel,
the Great Northern put on a new train which,
in honor of the late James J. Hill, under whose
administration the road had been built, was
named The Empire Builder.





As compared with the fastest previous schedule, the
time between Minneapolis and Seattle was cut by five hours.
The new train, No. 1 westbound and No. 2 eastbound,
was luxurious in its equipment and appointments,
and at once became deservedly popular.

The standard of service has been steadily improved,
and the entire train is now air-conditioned, and is
more than maintaining the excellent reputation which
the Great Northern has long enjoyed.

Up to the time that The Empire Builder was
established, the largest steam passenger locomotives
used by the Great Northern were of the
Mountain (4-8-2) type, Class P-2, 28 of which
were built by The Baldwin Locomotive Works
in 1923.

These locomotives carried 242,000
pounds on drivers and developed a starting
tractive force of 54,838 pounds. They did
their best work in the Rocky and Cascade
Mountain districts; but with the establishment
of the new train on a faster schedule, it was
decided to use locomotives of greater capacity
for the run through the Rockies.

Accordingly, six locomotives of the 4-8-4 type,
known as Class S-1, were built by The Baldwin
Locomotive Works and completed in May, 1929. As
compared to Class P-2, Class S-1 developed
from 19 to 24 per cent greater tractive force at
starting; and with its larger boiler, carrying a
steam pressure of 250 pounds as against 200
pounds in Class P-2, was far better fitted for
work on long grades where sustained high
power was required.

Until 1931, these locomotives were used exclusively
in passenger service between Havre and Whitefish,
a 256-mile run over the Divide. They hauled as many
as 18 conventional steel cars in both directions,
although when trains exceeded 13 cars, helper
service was used on the 1.8 per cent grade eastbound
between Walton and Summit. With favorable weather
conditions, however, 14 cars could be handled up this
grade without using a helper.





Early in 1930, Baldwin completed, for the
Great Northern, fourteen additional 4-8-4 type
locomotives of Class S-2, specially designed for
passenger service in the prairie region between
Williston, North Dakota, and Havre, Montana,
a distance of 310 miles over light grades, and
also between Spokane and Wenatchee, Washington,
174 miles, over grades of one per cent in each
direction.

These were the first locomotives of the 4-8-4
type built in this country to have driving
wheels as large as 80 inches in diameter. It was
required that they be somewhat lighter than
Class S-1, and accordingly they had a radial
stay boiler instead of a Belpaire, and the
boiler plates were of nickel steel; while
cast steel cylinders were used. In appearance,
the Class S-2 locomotives were particularly
handsome, and they soon proved their ability
to do excellent work.

In 1931, the Class S-1 locomotives were
tested in freight service between Whitefish,
Montana, and Hillyard, Washington, a distance
of 270 miles; while Class S-2 proved its
ability to handle The Empire Builder over the
Divide between Havre and Whitefish. The results
of the tests were so successful that it was
decided to transfer the six Class S-1 locomotives
to freight service.





Westward from Whitefish there is a descending
river grade, except from Bonners Ferry to Naples,
Idaho, a distance of 14 miles, and Dean to Hillyard,
Washington, 9 miles, where there are ascending
grades of 0.6 per cent. Eastbound there is an
ascending grade of 0.6 per cent from Milan to
Scotia, Washington, 15 miles, and of 0.7 per
cent from Rexford to Stryker, Montana, a
distance of 31 miles.

The Class S-1 locomotives haul as much as
5,500 tons eastbound, with helpers from Milan
to Scotia and Rexford to Stryker, making the
run of 270 miles in 11 to 12 hours.

In comparison the Class 0-6 locomotives of the
Mikado (2-8-2) type which Class S-1 displaced,
required 18 to 20 hours to make the run with
5,000 tons. Class 0-6 weighs 244,000 pounds
on drivers, with a rated tractive force of 65,800
pounds.

Aside from the helper districts from Milan
to Scotia and Rexford to Stryker, the tonnage
which Class S-1 will haul eastbound between
Hillyard and Whitefish is limited by an ascending
grade of 0.4 per cent in curvature territory
near Kootenai Falls.

On a recent occasion eastbound train No.
460, hauled by Class S-1 engine 2552, left
Troy, 135 miles west of Whitefish, at 8:00 PM.
with 97 loads and three empties, weighing
5,308 tons. This train was hauled up the 0.4
per cent grade at Kootenai Falls; and at Libby,
18 miles from Troy, 15 additional loaded cars
were picked up, increasing the tonnage to
6,000. With the help of a pusher, this train
was taken up Rexford Hill, and it reached
Whitefish at 2.40 AM., covering the 135 miles
in 6 hours, 40 minutes.

An important advantage of the Class S-1
locomotives is that they can be transferred from
freight to passenger service without any special
attention, should this be necessary.

On the 256-mile run between Havre and
Whitefish, the Class S-2 locomotives handle 17
and 18 conventional steel cars on The Empire
Builder's schedule. When eastbound trains
exceed 11 cars, helper service is provided
between Walton and Summit, 18 miles, where the
grade is 1.8 per cent. Class S-2 is economical
in fuel consumption and maintenance expense,
and has exceptionally high availability for
service.

The Class S-1 locomotives are superior in
power capacity to Classes P-2 and S-2. Class
S-2, however, exceeds Class P-2 in power, and
is superior to both Classes S-1 and P-2 in speed
and availability for service. Due chiefly to
their larger wheels, the S-2 locomotives are
slightly slower in getting away from station
stops; but they more than make up for this by
maintaining higher speed on the run.

In service between Havre and Whitefish, the
Class S-2 locomotives, when necessary, have
made approximately 20,000 miles in a month.
Ordinarily, a round trip is made from
Whitefish to Havre and return, 512 miles, with only
minor work at Havre, such as re-fueling and
greasing. It is not unusual, however, to run
through from Whitefish to Williston, North
Dakota, a distance of 566 miles, the locomotive
being detached from the train at Havre only
for re-fueling.

The following table gives the length of each
engine run and the corresponding class of locomotive
used on Train No. 1, the westbound Empire Builder. The
train originates at Chicago and is handled from that point
to St. Paul on the tracks of the Chicago, Burlington &
Quincy Railroad. The Class P-2 locomotive which hauls
the train from St. Paul to Breckenridge burns coal, while
all the other steam locomotives are oil-burners. Helper
service is provided up a grade of 1.65 per cent out of St.
Paul Union Depot if the train consists of ten or more cars.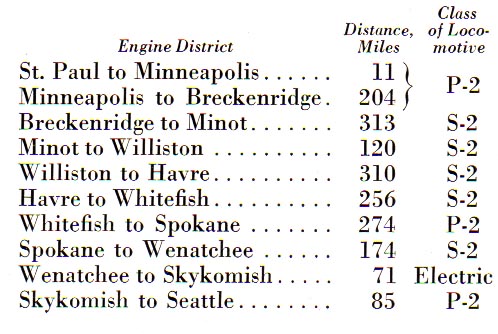 THE END