Saturday, July 12th:

Today's trip is following the old Montana Central/GN rails to Great Falls. First we load up the bus and head out:






Our bus captain today is Jack Dykstra from Whitefish who gives us a running commentary on the bridges and scenes we will see.





The ex-GN line from Helena to Great Falls is still in place, but has been "embargoed" (no trains) for the past 13 years, or so. The line is plainly visible along the way:





Our first stop through Prickly Pear Canyon is at Tunnel 4 -- a very nice spot where we can walk along the road and see the rock portal and bridge.








It is a short walk along the road to view the other portal of the tunnel. As can be seen, the jointed rail roadbed appears to be in pretty good shape.







We load up and head off. Our bus driver roars past the Wolf Creek, MT depot at 40 mph!!!





Gotta make time... The road opens up out of the canyon and there are some great views as we follow the line NE.






Our next stop is the engine facility at Great Falls. BNSF has kindly allowed us on the property and staged a locomotive and ex-GN snow dozer for our inspection.






Here is BNSF 1963 riding the old gallows turntable at Great Falls.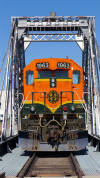 Ex-GN 1710 snow dozer shares the honors with a jim-dandy front plow monster face (complete with gold tooth).






Let's go inside the engine house and have a look around. Thank you, BNSF!!!!
The north side of the diesel shop still has the "Great Northern Railway" emblazed on the side in white brick:





Next is our lunch stop, courtesy of the Montana Museum of Railroad History and the Great Falls Model Railroad Club. They provide a very tasty sack lunch for the 120+ folks on our tour.








Now lets have a look at their expansive layout. A nice assortment of GN equipment is running.









Just outside is the BN caboose 12377 open for a tour.






After lunch and back on the bus, we do a roll by of the old Milwaukee Road passenger station.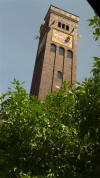 We roll by the Rainbow Falls bridge of the ex-GN Great Falls to Havre line.






Our next stop is the Lewis and Clark interpretive center. Is that a bitterroot in bloom?







The last view before returning to Helena is a runby of the ex-GN depot in Great Falls.