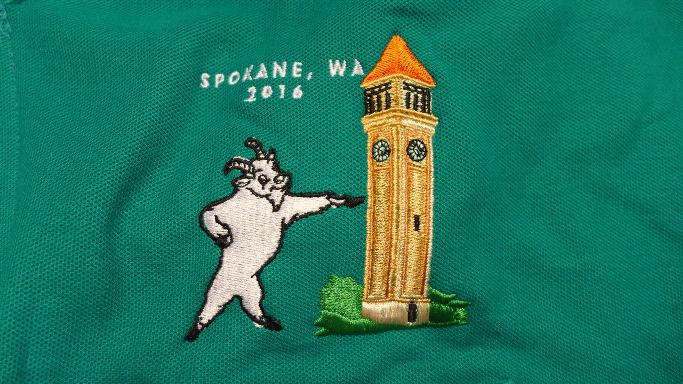 Monday, September 19th

A quick breakfast of eggs and sausages and then out to the front lobby to get my bus assignment. Ben had spent almost a year preparing turn-by-turn instructions and researching this tour. Each rider received a marvelous illustrated booklet and map which described what USED to be there. Ben did such a good job on this booklet, it might be turned into a Reference Sheet. It is that well done.

Since we had so many people (120+) on this tour, 2 buses would travel one route and 2 buses would go another way. This would stagger how the buses would arrive at the lunch stop and allow everyone to see the same sights.

I was lucky in that: 1. I was on the bus that would be on the same route as Ben. (Follow that bus, driver!); 2. Mine was the only bus of the four with a bathroom onboard! 3. I had a VERY understanding bunch on my 30 person bus (thanks for your patience, folks!).

The only drawback was my bus driver (Sid, bless his heart), had been pulled out of bed that morning as the original driver (with the route instructions!) called in sick. Sid did a terrific job keeping us going.

Ben's route instructions literally saved my hide. Using the microphone, I read off the turn by turn info so the driver could hear as well as explaining to my riders what we were seeing.

The first stop on Tour #2 was the site of GN's Fort Wright bridge (the east abutment is all that's left). As you can see, it was a beautiful day with not a drop of rain.





GNRHS members looking west towards Fort Wright; Lindsay Korst & Ben Ringnalda; Beautiful morning for the tour.





Second stop was the famous (for Spokane, anyway), E unit, GN bunk car and GN caboose X-303.




Third stop was a quickie at Liberty Park for a view of the Spokane & Inland Railway's "Frequency Changing Station". S&I (later the Inland Empire RR) which served Colfax and Palouse, WA and terminated in Moscow, ID.
Fourth stop in the morning was up at Hillyard featuring the X-176 caboose. Just a block and a half walk away was lunch at the Northern Rail Pub.

These folks put on a very nice lunch for the multitude that descended upon them! In addition to either a hamburger or pulled pork sandwich with all the fixings, each tourist received a complementary sample size beer glass with GN logo.







Cool, miniature beer glass!; Heading to lunch; Feasting barbeque; Flame broiled!; Ben likes this caboose.

The following was just a small sample of the GN sites we visited (or at least what I was able to get a grab shot of). Thank you to all who rode with us and for your kind feedback afterwards!

To celebrate, Ben, Mike, myself, and Scott & Jan Tanner all hit Anthony's seafood restaurant -- with a frothy view of Spokane Falls. (sorry, no pictures... ;p)





To cap off the evening, we made it back in time to see Earl Currie's "James J. Hill's Spokane Strategy".