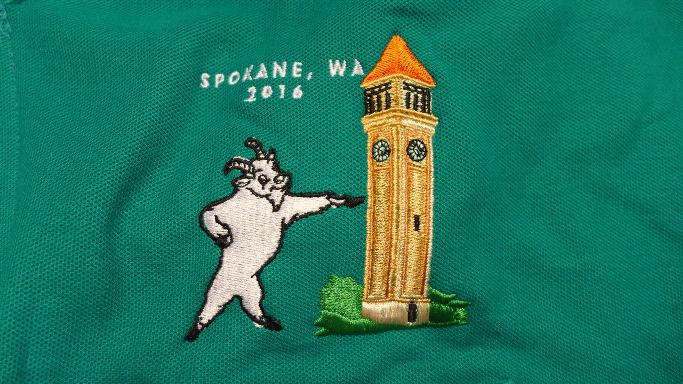 Saturday, September 17th

Bus Tour from Spokane to Sandpoint to Newport to Usk (POVA shops) and then back to Spokane






John Langlot was our bus captain; A busload of intrepid GN fans, heading out in the stormy weather.

No pictures from Spokane to Sandpoint leg. Raining too hard.

Heading out in the pouring rain along Trent Avenue east from Spokane, we were stopped by a Union Pacific freight train where they enter the BNSF (former NP) mainline. Train had Canadian Pacific unit as distributed power on the rear. This is the UP owned, former Spokane International Railroad line to the CP connection at Eastport, ID.

Proceeding eastward, Trent Avenue becomes WA 290 and then ID highway 53. After crossing into Idaho, we passed several trains and then the big fueling depot at Hauser, ID. Excluding Amtrak, all through trains get fuel here to get them to the coast and back (Portland or Seattle).

We paralleled the ex-NP tracks to Sandpoint where US 95 crossed Lake Pend Oreille (pronounced "Pond-er-ay").





BNSF westbound coal train on Sandpoint trestle with US 95 bridge in the background (from 2014).
The first stop in Sandpoint was a drive by of the GN 319499 box car which, I'm told, is used for storage. It is pristine -- no patch paint -- with all GN markings intact.



GN 319499 in Big Sky Blue on a drier day in 2014.

The second stop was at the former GN Sandpoint passenger depot - now used by a local shortline

The rain was still coming down pretty good, but I was able to snap a few pictures of our tour group.






Two views of the ex-GN depot at Sandpoint; Trying to stay dry; Pete & Chris Calderon.

From Sandpoint depot, we followed the ex-Great Northern mainline to Newport WA. Still on the Idaho side of the Pend Oreille River, we stopped to view the GN bridge which crosses from Idaho to Washington just beside the Albeni Falls Dam.





GN bridge crossing from Idaho to Washington; Mike Shockey; Ben Ringnalda, Steve Eckman & Ed Erickson.

Next was our lunch stop at Newport, WA. Newport has two railroad depots side by side. The ex-Milwaukee Road depot is now the County's H.S. Museum. The ex-GN depot houses offices of the Stimson Lumber Company.




Two views of GN's Newport, WA depot.

From the GN depot, we simply walked across the street to Owen's Grocery who had prepared a hundred or so sack lunches for us.





GNRHS members feasting at Owen's in Newport, WA.

After chow time, we headed off north along the ex-Milwaukee Road tracks to Usk, Washington.




Here, the Pend Oreille Valley Railroad (POVA) had a shop which we were able to tour.




They had a couple of their chop-nose geeps on display including POVA # 102, an ex-NP GP9. #1745 is an ex-Illinois Central GP10 #9045.








In addition to the shop, POVA had a wonderful collection of old locomotives just a short walk down the tracks.
Thank you, POVA Railroad!!!

Now late afternoon, we headed back to Spokane through the rain. I grabbed a shot of the "other" Frank's Diner in North Spokane which features (unconfirmed) an ex-GN passenger car.





Dinner tonight was at John Langlot's favorite hangout, Darcy's in Spokane Valley. As you can see, we had a good turnout at the feed.