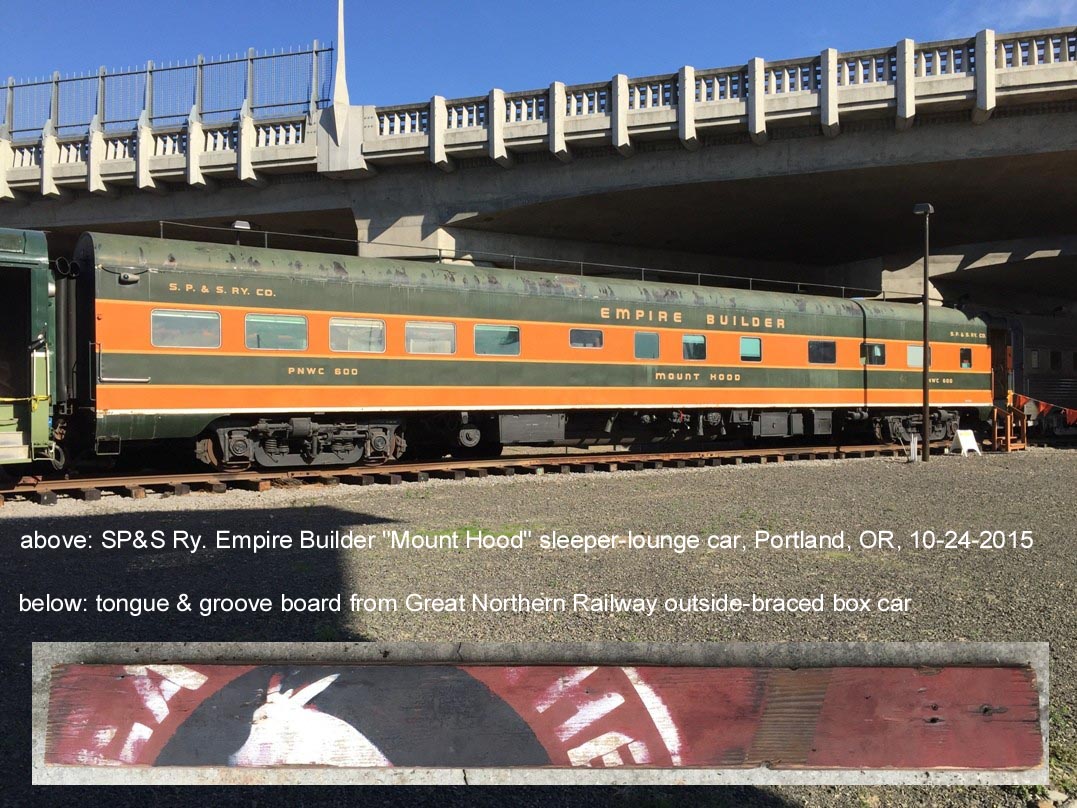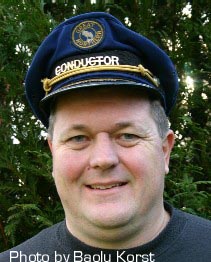 Welcome to my Great Northern Railway Page! My name is Lindsay Korst.
I have been a big fan of James Jerome Hill's Great Northern Railway from
an early age. The black & white photo from October 1960 is my brother
Mark, me and my Dad watching the Empire Builder emerge from the north
portal of the Seattle tunnel. That's also me trying on my new GN conductor's
hat a little more recently.
During a recent Amtrak Cascades visit to Portland, I came across PNWC 600,
the former SP&S Mount Hood in Empire Builder dress basking in the sun.
Mount Hood is a 6 roomette, 3 double bedroom, buffet lounge car built for
the Portland to Spokane section of the EB. It is stored at www.orhf.org
near the OMSI Science Center in Portland, Oregon. Also, the above tongue
and groove board with part of the famous GN "Rocky" logo, comes from
my collection and was acquired at a recent local swap meet.

Revisit Mark Meyer's recently updated treatise GN-MILW-NP Comparison
now in .pdf format.

Read about the 2015 GNRHS convention HERE. Highball!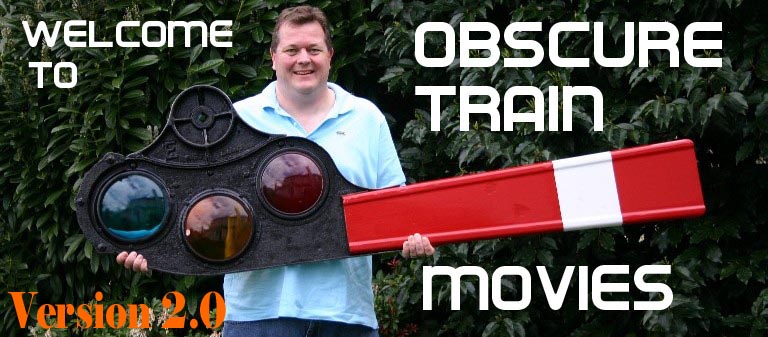 Welcome to v2.0 of Obscure Train Movies!



Join Friends of BNSF Railway!




GN and NP photo archives online!




Check out Ben Ringnalda's St. Nicholas Mountain restoration website!


Visit the Great Northern Railway Historical Society website!


Go to Peter Thompson's online GN Discussion List!




Visit Ben Ringnalda's wonderful Great Northern Empire website!

Great Northern Goat fans have visited since April 16, 2002.