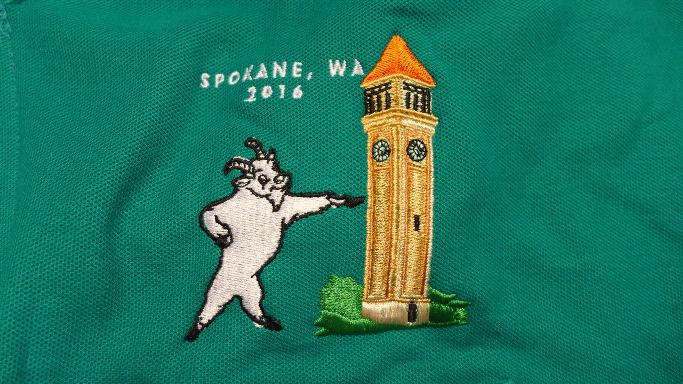 Friday, September 23rd






An early start today as we have a lot of ground to cover. But first a view of my hotel (The Prospector) and a couple of troublemakers having way too much fun panning for gold....GOLD!!! (Republic's early raison d'Ítre).

From Republic, it is a short drive up the Sanpoil River to Curlew. The town's museum is housed in the historic Hotel Ansorge (Henry Ford Slept Here!) just across the tracks from the GN right-of-way.






Great Northern right-of-way looking south (railroad west); Hotel Ansorge; Curlew station sign; Bob Kelly interpreting the site.




Henry Ford's room; Henry Ford's signature on the register; Museum curator presented with a Rusty Dusty book by John Langlot.

Leaving Curlew, our route up to Molson is getting more and more boonie. At Toroda, we leave the Kettle River and wind our way south, west and finally north to Chesaw with the highlight being Bob Kelly herding cattle in his Subaru.



Rollin', Rollin', Rollin'.....






With Chesaw in the rearview, it is a long, twisting drive to the ghost town of Molson, WA for our snack stop.






Molson boasts an enormous brick school (Grades 1-12 in its' heyday) which now serves as a museum with just about every artifact left from the town's early days. Right across the street is the Molson Trading Company which served us some of their world-famous carrot cake!







I took my truck and drove on the ex-SF&N (Spokane Falls & Northern) right-of-way as it curved to the north (towards Canada).






I also drove in the other direction near the roadbed to view the railroad wye in the middle of Molson Lake (you can see where the wye was in Google Maps by the lake and Nine Mile Road.





From Molson, our tour continued on the ex-SF&N roadbed (now a gravel road) down to Oroville. At one point (a rock cut) we are just 150' from Canada.







More rock cuts appeared as we made our way down the steep (for a railroad anyway) grade. At one point we stop and Bob Kelly appears with an interpretive map of our location. We can see the old grade below in a big circle as it loops around.








Finally we reach our lunch stop at Oroville. The old Great Northern depot has been moved to a site near end of track and is graced outside with a faux GN-red painted caboose X-202 (It is actually BN caboose 12038 built new in August 1975. Lunch is beef stew inside the depot and there is a good sized GN-themed model layout as well.
Ben and I hoof it over to the end of track just a block or two from the museum.





Appetites sated, the tour continues along the ex-GN (now a hiking trail) towards Nighthawk. There is a magnificent bridge to view, just outside Oroville over the Similkameen (that's a mouthful) River.
From the bridge, the tour pretty much punches down to Omak. Before hitting the Best Western, we drive through town past the still active ex-GN rails (now the Cascade and Columbia River Railroad). We also roll past the moved off track Omak depot!




Omak depot and C&CR power.

Dinner and drinks at the unlikely-named Koala Street Grill. Very good prime rib. Thanks for dinner, Andrew!!