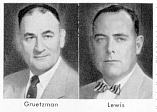 GN Men Head St. Paul Traffic Groups

Both the Transportation Club of St. Paul and the St. Paul Passenger Association have named Great Northern men as their presidents for 1957.

Ernest H. Gruetzman, GN General Agent, heads the former organization, and David M. Lewis, GN City Passenger Agent, the latter.

Other newly elected officers of the Transportation Club include James F. Day, Assistant General Traffic Manager, Minnesota Mining and Manufacturing Company, Vice President; Jack Gibbons, Sales Representative, Glendenning Motorways, Second Vice President; Gordon E. Daggett, Freight Traffic Representative, Canadian National-Grand Trunk, Secretary; Edward B. Chapin, Vice President, First National Bank, Treasurer.

Named to serve as officers of the Passenger Association along with Lewis are: H.R. Roloff, Chief Clerk, Northern Pacific, Vice President; J.E. Griller, General Agent Passenger Department, Milwaukee Road, Secretary; L.J. Bessette, City Passenger Agent, Rock Island, Treasurer.

---
RR YMCA Summer Meeting

The International Summer Institute of Transportation YMCA's will be held at Silver Bay, New York, on Lake George, June 23-28, 1957.

Paul W. Milburn, Traveling Secretary, Washington, D.C., has been appointed Dean of the Institute. Assistant is J.W. Winterhalter, Traveling Secretary, New York City.

The Institute will feature major addresses by outstanding leaders from the fields of Religion, Education and Industry. Seminars and workshops will deal with various phases of YMCA work.

---
DAFFODILS - Conclusion

60-foot street parade moves through Tacoma, Sumner and Puyallup. The curtain drops on April 14, when the Tacoma Yacht Club stages its annual all-Puget Sound marine regatta on Commencement Bay.

Hundreds of pleasure yachts, sailboats, outboards and commercial craft stream past spectators along Ruston Way, their starboard sides decorated with thousands of fresh daffodils. Tacoma's fire boat stages a colorful water display as a feature of the regatta and members of the Tacoma Outboard Association put on a precision drill with their little racers.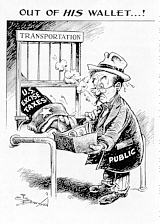 YOUR FREIGHT GOES GREAT WHEN IT GOES GREAT NORTHERN