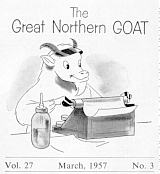 Great Northern GOAT - March 1957

Until its merger into the Burlington Northern, the Great Northern Railway's traffic department published a monthly pamphlet entitled, "The Great Northern Goat". This is Volume 27, Number 3 of the Goat published in March 1957.

As it says on page four of this booklet, "The Great Northern Goat is not an employe magazine. It is published monthly for the Traffic Department of the Great Northern Railway in the interest of organizations and individuals engaged directly or indirectly in the handling of industrial traffic and travel by railway."

This pamphlet was generously sent to me by Chuck Dayley who lives in eastern Washington State (Thanks, Chuck! 73's!). I am presenting the complete booklet here as an example of what was GN's ongoing and upbeat devotion to customer service.
Enjoy!
Click here to start or on the links to the left.