DERBY FISHING IN PUGET SOUND

Personnel aboard Great Northern's streamlined Internationals are accustomed to the amazement of passengers getting their first view of the fleet of small craft dotting waters along the shoreline route between Seattle and Vancouver, British Columbia.

Train crews have seen the peak days on many occasions when every boat from every boathouse along Puget Sound seems to be in use as sportsmen seek King and Silver salmon.

These sleek, heavyweight fighters of Pacific waters are the prize providers of sport on Puget Sound. They draw thousands for the thrill of just...(concluded on page six)

---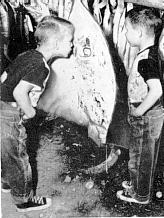 Not in the contest but still a prize winner is this 43-pound skate. Bremerton Sun photo.

---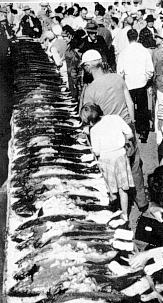 Spectators view entries in a Puget Sound salmon derby. Scores of such "derbies" are held annually. Seattle Times photo.

---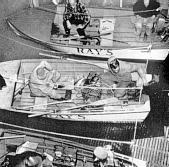 All Boeing fishing party contestants must fish from similar craft. Boeing Airplane Co. photo.