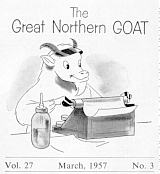 Volume 27 - March, 1957 - Number 3

---
The Great Northern Goat is not an employe magazine. It is published monthly for the Traffic Department of the Great Northern Railway in the interest of organizations and individuals engaged directory or indirectly in the handling of industrial traffic and travel by railway.

---
J. M. Hagen, Editor

---
All communications should be addressed to the Editor, Great Northern GOAT, Great Northern Railway Company, 175 East Fourth Street, Saint Paul 1, Minnesota.

---
CHANGE OF ADDRESS: Return entire envelope in which magazine was received to above address. Please include portion which bears addressograph imprint of old address. Print new address, including postal zone, if any, in form provided.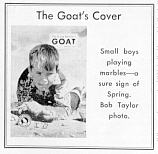 The Goat's Cover - Small boys playing marbles...a sure sign of Spring. Bob Taylor photo.

---
Your Railroads

Defense plans for the nation's railroads against possible enemy attack upon the continental United States are outlined in a booklet recently published by the Association of American Railroads.

The 24-page illustrated manual entitled, "Railroad Planning for Defense...a Guide" was prepared in cooperation with the Office of Defense Mobilization, the Transport Mobilization staff of the Interstate Commerce Commission and the National Railroad Defense Planning Committee, which is composed of the industry's top operating officers.

The booklet stresses particular factors and problems of railroad maintenance, operations and protection of equipment and facilities which might be expected to result in event of enemy action in this country.

After an introduction emphasizing the railroads' responsibility for defense planning both on the part of management and the individual, the text material is divided into three sections.

Part one covers advance planning to minimize damage from enemy attack, including protective measures, emergency organization and training such as first aid and hospitalization. Part two deals with defense against espionage and sabotage, and part three details plans for recovery after attack.

THE STREAMLINED WESTERN STAR