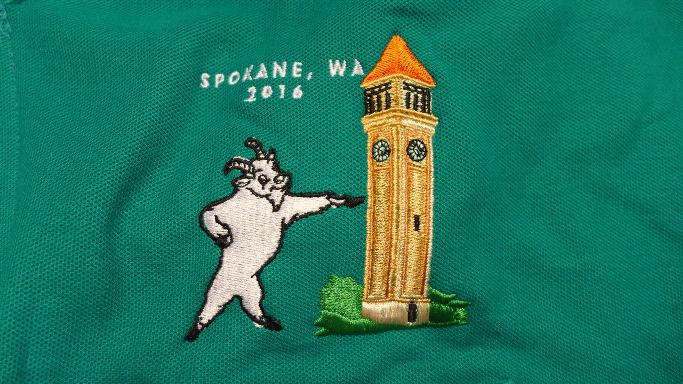 We started the day off right with John Langlot's "Kettle Falls to Nelson BC" presentation.
Nelson, BC (northernmost point of the GN Ry) is going to be the site of the GNRHS's 2020 convention, so John's show was a must.

A few months before the convention, I had been contacted by a gentleman near Spokane who believed he had a genuine, not-previously-known-to-us Great Northern caboose. He was curious about his car and wanted to know more about it. Ben and I drove down (about a 1/2 hour south of Spokane) to check it out at his invitation.

"Doctor Chuck" was waiting for us as we drove up. Sure enough, perched on the side of a hill near his house was a genuine GN caboose sans cupola. Ben found X-716 stenciled on the frame and BN 11330 on each truck. It turns out the two wheel sets were swapped out from SP&S caboose 870 -- a common practice on BN after the merger.





X-716 reposes in the sunlight; friction bearing with cotton "waste" still inside; reverse view of caboose.

The X-716 was built in GN's Saint Cloud, MN shops in 1929. At some point, the railroad removed the cupola and used the caboose for yard or transfer service. It was renumbered to BN 10997 in August 1971. It was sold to Pacific Northwest Salvage in February 1976. Per GNRHS Ref Sheet 148, X-716 spent much of its early life assigned to GN's Mesabi Division (the ore-producing area of Minnesota).

Chuck said he inherited the caboose when he purchased his house, so it has been on the property for quite a while. The previous owner hooked it up to electricity and used it as sort of a man cave/clubhouse where he could play cards with the boys. After the convention, I sent Chuck more information about his caboose. Indeed, X-176 is not on any of Jack Porzig's Ref Sheets about remaining GN cabooses (Ben told Jack about X-716 at convention). Ben and I were really excited about finding this GN relic from the past and -- thanks again Doctor Chuck for letting us on the property!






GN logo fading, but still visible; inside caboose; reverse view; www.gngoat.org September 2016 cover shot!





After newly-discovered caboose hype, Ben and I did a little railfanning around Spokane with the highlight being getting a photo of BN 12562, the ex-GN X-123 currently still in plain sight at Yardley/Parkwater, AFAIK.
All good things must come to an end and soon it was time for the evening's banquet, awards, guest speaker and the big raffle prizes.






Banquet shots. Can you see yourself?






Awards for GNRHS service. From left to right: Mike Bartenstein, Bob Showers, Mac McCulloch, Mary McGlothlin. THANK YOU FOR ALL YOUR HARD WORK ON BEHALF OF GNRHS!



Banquet speaker, Ross Lane from BNSF



Our Master of Ceremonies, Steve Eckman



Duane Buck announces the modeling awards






Some of the raffle prizes